Magic of Lights Returns to East Hartford in 2023
Sep 26, 2023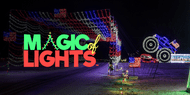 This holiday season will be even brighter, merrier and more colorful as Magic of Lights returns and transforms Pratt & Whitney Stadium into a vibrant drive-through holiday-themed light display. The festive event kicks off on November 23rd and runs through December 31, 2023.
Produced by Family Entertainment Holdings, LLC, "Magic of Lights" will return to Pratt & Whitney Stadium at Rentschler Field for the third year, featuring dozens of displays, festive favorites, and digital animation, all constructed with millions of individual LED lights to create a memorable holiday experience for the whole family.
"We are excited to return Magic of Lights to the Pratt & Whitney Stadium at Rentschler Field community for the third year as its become apart of the local annual holiday tradition," says Ken Hudgens, CEO of Family Entertainment Holdings, LLC. "Our innovative creative team has designed a drive-through holiday wonderland light experience that promises to dazzle and delight guests of all ages."
"We look forward to celebrating the holiday season with Magic of Lights for the third year in a row. This one-of-a-kind drive-through light show is a spectacular way for us to celebrate the holiday season with the community." – Ben Weiss, General Manager of XL Center, Pratt & Whitney Stadium at Rentschler Field, and Hartford Wolf Pack.
Inside the comfort of their own vehicle, guests will enjoy Magic of Lights' classic holiday favorites including Winter Wonderland, the 12 Days of Christmas, Toyland, festive Elves and Reindeer Road. In addition to the 200 foot long Enchanting Tunnel of Lights, there will also be other new light tunnels to delight and amaze.
Other illuminated displays include the 32-foot-tall animated Mattel's Waving Christmas Barbie®, Prehistoric Christmas featuring life-sized dinosaurs celebrating the season, and the legendary BIGFOOT® Monster Truck. Created with over two million sparkling lights, Magic of Lights is a nostalgic and festive event everyone will enjoy.
A new augmented reality feature will be introduced this year as well to make the magical experience even more interactive, with details set to be released in November.
QUICK FACTS - MAGIC OF LIGHTS
• 2+ million lights per Magic of Lights event.
• 12.6 miles of light cord per Magic of Lights event.
• 3,750 staff hours to set up each Magic of Lights event.
• The steel displays are designed, bent, cut and welded into about 800 frames that are combined in different configurations to create each show's giant winter holiday scenes. Each frame of each scene is designed using the latest CAD technology and hand-built in-house from 15 pages of design specifications each.
• Each Magic of Lights show uses about 10 miles of steel to build the displays and 10 miles of LED lighting installed inside the displays, there are 10 different colors of LED bulbs used in the shows.
• Scenes, such as the animated Mattel's Waving Christmas Barbie, are as high as 32 ft. tall and as long as several hundred feet.
Magic of Lights shines Monday - Thursday from 5:00 PM – 9:00 PM and Friday – Sunday 5:00 PM – 10:00 PM beginning November 23 through December 31. Tickets for this colorful seasonal event go on sale September 29, 2023, and tickets are priced per vehicle.
For a complete schedule and to purchase tickets, visit MagicOfLights.com/Hartford.