Guatemala & Venezuela will meet in an International Friendly Match on June 18
May 17, 2023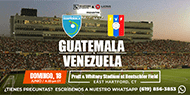 JA Masters Events announced today the international friendly match between the national teams of Guatemala and Venezuela for Sunday, June 18 at 4:30 p.m. ET at Pratt & Whitney Stadium at Rentschler Field in East Hartford, Connecticut.
The match is part of the long-awaited "Guate Tour" that already has stops in Pennsylvania and California scheduled for the month of June and that are predicted to be a huge success. Tickets will be on sale on Monday, May 22nd at 10 a.m. ET at the official website of Rentschler Field.
After the "Guate Tour", Guatemala will give way to a year full of official competitions. Starting with the Concacaf Gold Cup where they will compete in Group D alongside Canada, Cuba and a rival to be defined that will come out of the preliminary round.
Guatemalan soccer is experiencing great momentum in Concacaf, placing its first division league among the top five in the region. And one of its highest representatives, Comunicaciones, as the third best team in the Central American area. All this according to the new ranking of the confederation.
Venezuela currently ranks 55th in the FIFA ranking. In 2023 they remain undefeated after a 2-1 win over Saudi Arabia and a 1-1 draw against Uzbekistan in their only two meetings of the year.
The vinotinto will return to the United States this summer after a prolonged absence to continue their preparation for the World Cup qualifiers and the 2024 Copa América that will be played precisely in North America.
Pratt & Whitney Stadium at Rentschler Field is one of the sports jewels in East Hartford, its construction was completed in September 2003 and has a capacity of 36,000 spectators. Currently, it is the home of the University of Connecticut football team. The stadium has natural grass.
Members of the press interested in covering the match can submit their credential request using the following link: https://forms.gle/WnACCKAQcc1bubWs7
PARA PUBLICACIÓN INMEDIATA
GUATEMALA Y VENEZUELA SE ENFRENTARÁN EN PARTIDO INTERNACIONAL AMISTOSO EL 18 DE JUNIO EN PRATT & WHITNEY STADIUM EN RENTSCHLER FIELD
East Hartford, CT (May 17, 2023) - JA Masters Events anunció hoy el encuentro internacional amistoso entre las selecciones nacionales de Guatemala y Venezuela para el domingo, 18 de junio a las 4:30 p.m. ET en Pratt & Whitney Stadium en Rentschler Field en la localidad de East Hartford, Connecticut.
El encuentro forma parte del tan esperado "Guate Tour" que ya tiene paradas en Pensilvania y California programadas para el mes de junio y que se pronostican con gran éxito. Los boletos para el duelo entre la bicolor chapina y la vinotinto estarán a la venta desde el lunes 22 de mayo a las 10 a.m. ET en el portal oficial de Rentschler Field.
Luego del "Guate Tour", los dirigidos por Luis Fernando Tena le darán pie a un año cargado de competencias oficiales. Iniciando con la Copa Oro de la Concacaf donde competirán en el Grupo D junto a Canadá, Cuba y un rival por definir que saldrá de la ronda preliminar.
El fútbol de Guatemala vive un gran momento en Concacaf, ubicando su liga de primera división entre las cinco mejores de la región. Y uno de sus máximos representantes, Comunicaciones, como el tercer mejor equipo dentro del área centroamericana. Todo esto de acuerdo al nuevo ranking de la confederación.
Venezuela actualmente ocupa el puesto 55 en el ranking de FIFA. En el 2023 se mantiene invicto luego de un triunfo 2-1 sobre Arabia Saudita y un empate 1-1 frente a Uzbekistán en sus dos únicos enfrentamientos del año.
La vinotinto regresará a Estados Unidos este verano luego de una prolongada ausencia para continuar su preparación de cara a la eliminatoria mundialista y la Copa América del 2024 que se disputará precisamente en territorio norteamericano.
Pratt & Whitney Stadium en Rentschler Field es una de las joyas del deporte en East Hartford, su construcción se completó en septiembre del 2003 y cuenta con una capacidad de 36.000 espectadores. Actualmente, es la casa del equipo de fútbol americano de la Universidad de Connecticut. El estadio cuenta con grama natural.
Miembros de la prensa interesados en darle cobertura al partido pueden enviar su solicitud de credencial utilizando el siguiente enlace: https://forms.gle/WnACCKAQcc1bubWs7