UConn Football vs Liberty
UConn Football takes on Liberty Football for the final home game at Rentschler Field on November 12, 2022. Kickoff is 12 PM.
Parking Information:
Parking lots for UConn Football vs Liberty will open 5 hours prior to the start time of the event for season ticket holders and 4 hours prior to the event for the general public. Tailgating will be permitted in the parking lots.
Click here to purchase parking in advance.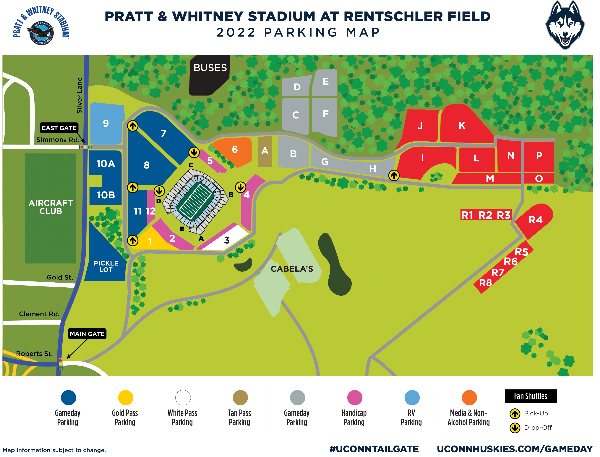 Click here to view the map full screen.

Concessions:
Only credit or debit cards are accepted at the stadium. Pratt & Whitney Stadium is a cashless venue. Customers can take cash to the Wooster Street Pizza Concession stand at section 135 to exchange their cash for vouchers to be used at any food and beverage location in the stadium.


2022 UConn Football Home Schedule:
UConn vs CVSU - September 3 - 12 PM
UConn vs Syracuse - September 10 - 7 PM
UConn vs Fresno State - October 1 - 3:30 PM
UConn vs Boston College - October 29 - 12 PM
UConn vs UMass - November 4 - 7 PM
UConn vs Liberty - November 12 - 12 PM