Hartford Wolf Pack HockeyFest
Calling all hockey fans! Mark your calendars for the first-ever Hartford Wolf Pack HockeyFest taking place at Pratt & Whitney Stadium on August 6 & 7. Game on!
Grab your friends, co-workers, and teams and sign up now to compete in real rinks with official referees. Each game is played on 50% to scale NHL-sized rinks with real boards and real netting. Our tournament features street hockey for divisions of all ages, genders, and skill levels. Whether you play hockey or are just looking for something fun to do with friends, this is the perfect tournament for you. Music will be playing at each rink throughout the day. Indulge in your favorite food and beverage vendors, drinks with the team, and kill time by playing our interactive games such as the hardest shot, mini stick rinks, shooting accuracy, and more. From the official partners of Barstool Sports, Tampa Bay Lightning, Chicago Blackhawks, and more!
Registration for this event has closed.
DAY OF GAME:
Free Parking
Rain or Shine
3 on 3 + goalie (7 players per team)
Fill out the player waiver here.
The schedule will be announced week of the tournament
Equipment:

U15 and under – players are required to wear helmets with eye protection. Eye protection must fit firmly around the eyes and be able to protect against high sticking and balls. A hockey helmet with a full cage as well as gloves is recommended.
Goalies are required to have full equipment including a full-face mask, goalie stick, blocker, and trapper.
Hockey sticks will be the only type of stick permitted (no floorball/broomball/etc). Sticks must also be fully intact. Broken sticks will be removed by the referee at their discretion.
Click the image below to see the schedule full screen.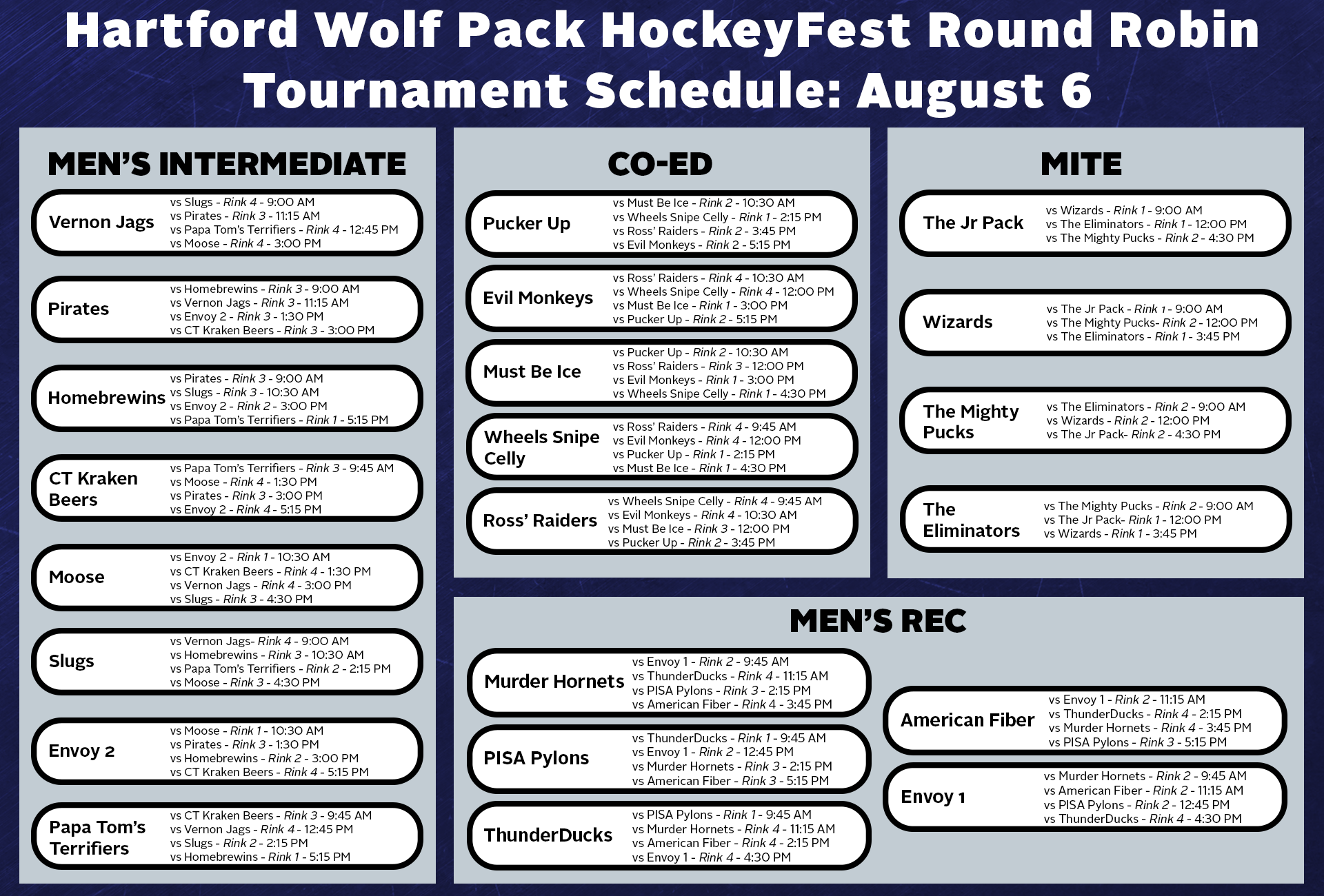 DIVISIONS:
Youth
Mite - Birth year 2013-younger
Squirt - Birth year 2012-2011
Peewee - Birth year 2010-2009
Bantam - Birth year 2008-2007
Midget - Birth year 2006-2003
Each age classification will be broken out into boys and girls brackets. Each of those brackets will be further divided into competitive vs recreation groupings.
Adult
Men's Recreational
Men's Intermediate
Men's Competitive
Women's
Co-ed

HockeyFest reserves the right to combine divisions based on team registration numbers, if necessary.

Interested in being a sponsor? Call (860) 722-9637 or email BDooley@OakViewGroup.com.
Partners include: