CONCESSIONS
Spectra Food Services & Hospitality manages food and beverage at Pratt & Whitney Stadium at Rentschler Field. The stadium has 17 concession stands located around it.
As far as other concession areas, Pratt & Whitney Stadium at Rentschler Field has a variety of other options. The club level features an open buffet for fans to enjoy throughout the game.
Need new fan gear? There are two novelty/merchandise stands located on the outside perimeter concourse level of the north side of the stadium.
Spectra is excited to announce many new tasty additions for the 2018-19 season!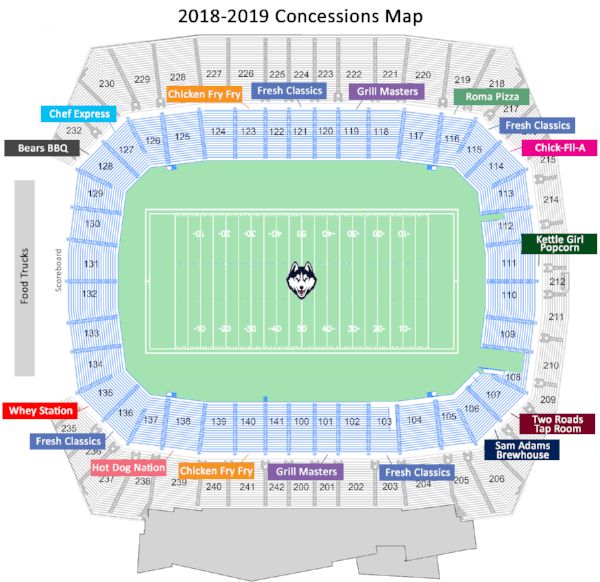 _______________________________________________________________
WHEY STATION SECTION
Whey Station, voted CT's Best Food Truck, is bringing their famous grilled cheese sandwiches to the concession stand!
Featured Favorites:
"Channing Tater" (5 cheese blend, bacon, tater tots, sour cream and scallions)
"Avo Dip" (5 cheese blend, bacon and creamy chipotle with a guacamole dipper)
Cheesy Bacon Tots (Tots with Whey Station Made Cheese Sauce, 5 cheese blend and scallions)
CHICK FIL A SECTION 114
Chick Fil A, home of the Original Chicken Sandwich, is now at Pratt and Whitney Stadium!
Featured Favorites:
Original Chicken Sandwich
Chicken Nuggets
Waffle Chips
Spicy Chicken Sandwich
BEARS BBQ SECTION 128
Bears BBQ, a CT favorite, brings the flavor with their Kansas City-style BBQ meats. Large portions and smoky flavor can be found throughout all of their selections!
Featured Favorites:
Pulled Pork
Brisket
Mac Attack
TWO ROADS TAP ROOM SECTION 107
Two Roads Tap Room will be featuring several Connecticut brewed beers as well as locally made food options.
Feature Favorites:
SAM ADAMS BREWHOUSE SECTION 106
Sam Adam's Brewhouse is bringing New England's' favorite beers and food to Pratt & Whitney Stadium!
Featured Favorites:
Frito Pie Bowl
Chowder Pot's Clam Chowder Bread Bowl
Sam's Seasonal Beer
Cherry Wheat Beer
And of course the Boston Lager.
ROMA PIZZA SECTION 116
Come grab a slice of East Hartford's favorite pizza at the Roma Pizza Stand! Fresh ingredients and an authentic Italian flare with have you coming back for a second piece.
KETTLE GIRL POPCORN SECTION 111
Connecticut's favorite popcorn is now at the stadium!
Featured Favorites:
HOT DOG NATION SECTION 138
Hot Dog Nation is back by popular demand! This stand features locally inspired hotdogs along with unique dogs showcasing flavors from across the country.
Build your own perfect hotdog at the condiment area includes detailed construction directions and all of the best ingredients.
FRESH CLASSICS SECTION 103, 115, 121 &136
Fresh Classics™ features freshly grilled hot dogs placed in a bun just before being handed to customers, juicy burgers that were removed from the grill seconds before it touches the customers hands and freshly popped popcorn, just to name a few. There's nothing stale about Fresh Classics™!
CHICKEN FRY FRY SECTION 123 & 140
Who doesn't love chicken tenders? This stand brings this popular menu item to the forefront with a whimsical feel.
Featured Favorites:
The signature chicken and fry basket paired with various dipping sauces.
GRILL MASTERS SECTION 101 & 119
What goes better with football than burgers and hot dogs?
Featured Favorites:
Half pound 100% all beef burgers
All beef hot dogs
Giant grilled chicken breasts
CHEF EXPRESS SECTION 127
Chef Express™ captures the latest trend in convention retail dining by offering gourmet food prepared and packaged in a grab-and-go style.
Featured Favorites:
Gourmet salads, soups, & wraps
Hand carved deli sandwiches