Building Policies
Spectra Venue Management would like all of our guests to enjoy their visit to Pratt & Whitney Stadium at Rentschler Field. To assist you, and to ensure your safety, comfort and enjoyment, we are providing the following information and guidelines. New security measures, including walk-through metal detectors at every entrance, are being introduced this season at Pratt & Whitney Stadium. Fans are encouraged to allow for extra time to enter Pratt & Whitney Stadium and to leave non-essential items at home.
To accommodate the additional time needed for the new security procedures, doors will continue to open 90 minutes prior to scheduled event time. Guests are encouraged to arrive early to ensure entry in a timely manner. These new procedures are not a response to any specific threat, but rather recommendations made by the University of Connecticut with consultation from local law enforcement officials and other arenas and stadiums within the American Athletic Conference.
All guests will be subject to search, at Pratt & Whitney Stadium at Rentschler Field's discretion, of their person and/or possessions (including handbags of normal size, which may be allowed entry after such search). Guests with prohibited articles will be turned away at the entrances to return items to their vehicle or dispose of the items. No storage or "check-in area" will be provided. Enforcement will be without exceptions.
Pratt & Whitney Stadium at Rentschler Field expects its guests to display proper behavior while attending events. Foul abusive language, drunken and/or rowdy behavior will not be tolerated and will be cause for ejection and/or arrest. Guests are requested to notify the nearest event staff or security immediately if this behavior should occur near you. Guests are prohibited from entering the field and locker areas and should sit in their reserved seats, always keeping the aisles clear. Guests should be prepared to display their ticket stub when requested by event staff or security. Any throwing of objects or property damage to Pratt & Whitney Stadium at Rentschler Field will result in immediate ejection and/or arrest. No refunds will be granted in the above cases.

*All individuals two-years-old or older must possess a valid ticket for entry into the Pratt & Whitney Stadium at Rentschler Field. Children under two-years-old are admitted free of charge for most events, as long as they sit on a lap. Please note specific events require children one-year-old or older to posses a ticket and will be noted on the show's event calendar listing.
Re-entry
There is NO re-entry to Pratt & Whitney Stadium at Rentschler Field. Persons leaving will not be readmitted. Medical emergencies will be handled at the Guest Relations booth at Gate B.
Prohibited Items Policy
The following items are prohibited inside Pratt & Whitney Stadium: bags or purses larger than 12" x 6" x 12", alcoholic beverages, animals (except service animals), backpacks, balloons, briefcases, cameras with lenses longer than 3", cameras with a detachable lens, drugs,e-cigarettes and vapes, large banners/flags, umbrellas, video cameras, audio or video recording devices, laser pointers, noise makers, weapons of any kind (including weapons carried with a permit), contraband, sticks or poles - including selfie sticks, laptop computers, tablets, outside food and beverage, and any other item(s) determined to be dangerous or inappropriate.
Other items deemed by Management to be dangerous or inappropriate will also NOT be permitted.
Tickets And Student Admission
Pratt & Whitney Stadium at Rentschler Field gates will open admission 90 minutes prior to kickoff. Due to heightened security all guests will be searched at every gate. All seating is reserved for guests holding valid tickets. Lost, stolen or destroyed tickets will not be replaced. All UCONN students must enter through Gate C and display appropriate and valid student ID.
Will Call
The Will Call windows are located at Gate B. The Will Call window will open three hours prior to kickoff and remain open through intermission. If you are picking up tickets purchased in advance, you must present a photo ID and the credit card on which the tickets were purchased. There is no third party will call or alternate pickup accepted at the Pratt & Whitney Stadium at Rentschler Field Box Office.
Camera Policy
Video cameras and recording devices are strictly prohibited. Hand-held still cameras are allowed for personnel use only. Cameras with lenses that exceed three inches or that have a removable lens are not permitted.
Bag Policy
All bags are subject to search upon entry and are subject to additional searches within the stadium. Backpacks or oversized bags are not permitted. Purses/tote bags that are smaller than 12" x 6" x 12" will be permitted. Diaper bags are permitted in the company of a small child. Bags carrying medical needs will also be permitted and are subject to search by venue personnel. Bags for equipment and computers for those working the event, such as media, photographers, etc. are permitted and are subject to search upon entry into the venue. Guests are encouraged to return unauthorized items to their vehicles. Venues cannot safeguard items which are not permitted into the arena. Violators of the rules will be refused admission and asked to leave. This policy is in effect for all guests.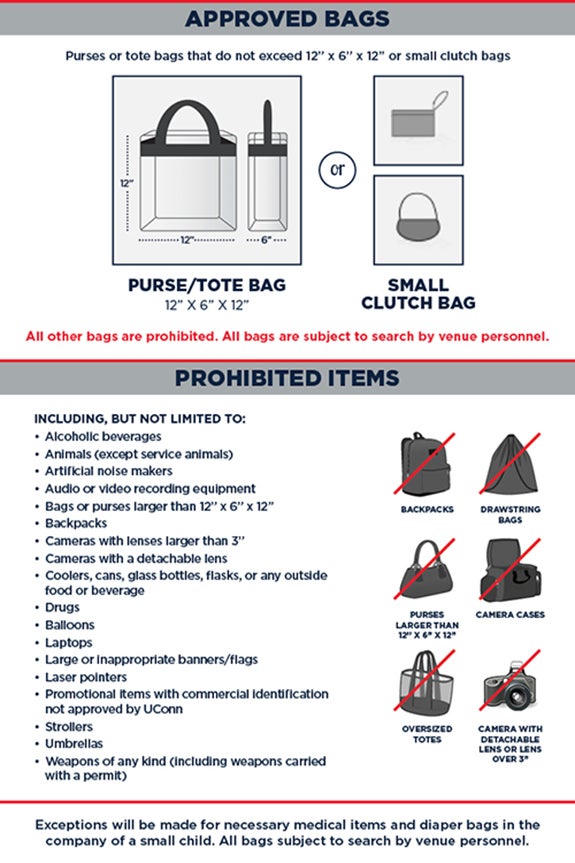 Smoking
Smoking is prohibited at Pratt & Whitney Stadium at Rentschler Field. Please refrain from smoking in seating areas, concourse, and washrooms. Violation of this policy could result in ejection from Pratt & Whitney Stadium. E-cigarettes and vapes are not permitted.
Alcohol Policies
Guests who drink alcoholic beverages are asked to drink responsibly. Guests must be 21 years of age or older to purchase alcohol and must present valid identification. A limit of one (1) beer per guest will be sold at one time and beer sales end the middle of the third quarter, or earlier, at Management's discretion.
Lost And Found
Lost and found items should be brought to Guest Relations located on the concourse level at Gate B. For information on lost items please call Derek Miles (860) 610-4885.
Public Address
No appeals will be made over the Public Address system except under extraordinary circumstances. Please contact the nearest event staff/security personnel or Guest Relations located at Gate B for assistance.
ATM Machines
ATMs are located at Gate B, Gate C, and Gate D.
Concessions
Full service concession stands are located around the stadium concourse. Concession services are managed by Spectra Food Services & Hospitality.
First Aid
Emergency medical treatment is available at the First Aid Room located by Gate B. The First Aid area is staffed by medical personnel from the UCONN Medical Center. Emergency Medical Technicians provided by East Hartford Fire Department are located on the concourse level at Gates A, B, C, and D. For medical assistance notify the nearest Event Staff / Security Representative.
Food & Beverage
Pratt & Whitney Stadium at Rentschler Field, through its authorized representative, has exclusivity over all food and beverage consumed throughout the stadium. No outside food & beverage is permitted into the stadium.